Central Sikh Temple
In 1912, with the assistance of a Sindhi merchant named Wassiamull, a group of Sikhs bought a bungalow with a large compound at 175 Queen Street and turned it into a gurdwara. The gurdwara became known as the Central Sikh Temple when other temples were established. It was also known as the Wadda Gurdwara ('The Big Temple').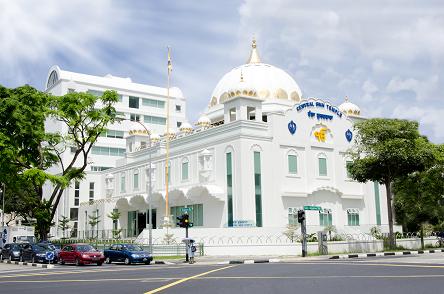 The temple was reconstructed in 1921. The congregation hall was on the first floor and the kitchen and other facilities on the ground floor. It is the custom for Sikh temples to provide food and lodging to travelers.
In 1937, the government decided to set up a corporate board of trustees for the temple. In 1940, the Queen Street Gurdwara Ordinance was enacted. It provided for a board of trustees named the Queen Street Gurdwara Board of Trustees (Incorporated) made up of equal numbers of nominees from the Majha, Malwa and Doabha factions of the congregation.
In 1925, rivalry for leadership amongst the factions led them to form their own gurdwaras. Today, these gurdwaras are registered as societies and only two Sikh temples are recognised as public temples. The Central Sikh Temple remains the main temple for all Sikhs. The Silat Road temple which is also managed by the Central Sikh Temple is the other recognised public temple.
In 1959, plans for a new temple and the move away from Queen Street to a new site in Newton were formed. There were factions in the congregation that preferred to remain in Queen Street. An ad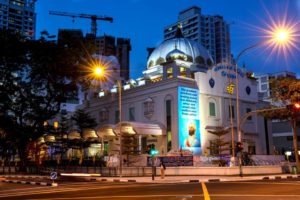 joining plot of land with nine houses on it was purchased for $100,000. The plans for the new temple here were approved by the Government in 1963. However, it was never built due to internal disagreement.
In 1976, the land adjoining the temple site was acquired by the Urban Redevelopment Authority. A year later, the land on which the temple stood was acquired. In December 1979, the temple was vacated and was temporarily housed in the former Bukit Ho Swee Community Centre at Seng Poh Road.
Plans for a new temple in Towner Road were conceived in 1983. Its construction began in 1984 and was completed in April 1986. The Central Sikh Temple at Towner Road was officially opened in November that year.