About SC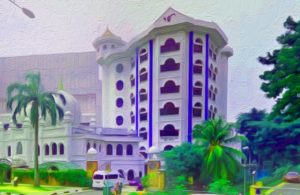 Established in 2000, Gurdwara Silat Road Sikh Centre, also fondly refered to as the Sikh Centre is a 7-Storey building with facilities catering to the needs ofthe young and old alike. It boasts a fully equipped auditorium with retractable seats that seat 160 as well as a library, which is home to oyer 7000 books. lt also has a Gym, Elder's Lounge,Mini Darbar,Children's play area and a Gurmat Sangeet Academy.
Interest of the Week
Introduction of RABAB instrument
The First Instruments of the Sikhs is the Rabab. This is a plucked instrument with gut strings that give more power and deepness in its sound. It is approximately 3 feet long, made primarily of 'Tunn' wood.
The Rabab was given to Guru Nanak Dev as a present from Bebe Nanaki, his elder sister. Guru Nanak gave this Rabab to Bhai Mardana, his dear friend, to play and accompany him on his travels. Wherever Guru Nanak sang, the Rabab followed with such grace and majesty. This is where the tradition of 'Kirtan,' the singing of hymns, began. The Rabab, which was played by his beloved companion Bhai Mardana, followed Guru Nanak as a shadow for 27 years on his travels around the world.
Sikh Centre
9 Jalan Bukit Merah
Singapore 169543
Tel:(65) 6327 2005/7
Fax:(65) 6327 2009
Facilities
Click on the facility to view more details.