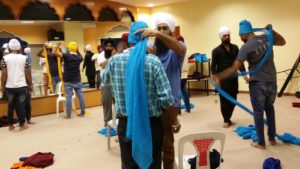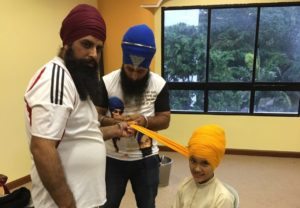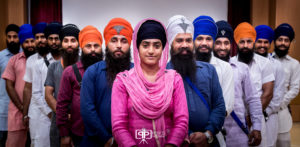 What is Nishaan-E-Sikhi?
Nishan-e-Sikhi is a turban tying group formed with the following objectives:
-Promotion of Dastar in the community.
-Encouraging participants to practice Sikh way of life by following the Guru Ji's teaching
-Strengthen self-esteem of the participants
-Community Engagement
Why Nishaan-E-Sikhi?
The weekly Sunday class is not just about grooming individual on how to tie turban but at the same time the emphasis is also given on the other areas which helps an individual to improve on his other areas which is essential towards building complete Sikh personality.
What do we do at Nishaan-E-Sikhi?
The class is held every Sunday at 5pm at Sikh Centre (Level5) and basically the following is covered during the session:
Simran
Explanation of Gurbani
Turban Tying
Gurbani Veechar by the participants
How can I join the group?
The group is open to all and you can join us by registering your name with the Sikh Centre, Manager and if you wish to learn how to tie turban you can join the turban tying class by making a one time payment of $20 for 5 sessions.
Coming Sessions
[tribe_events_list category="nishaan-e-sikhi" limit="3″]
Photo Gallery
Coming Soon!