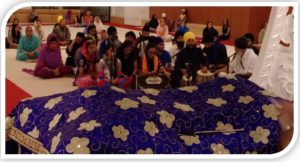 What is Ruhani Kirtan?
Its a unstuck melody sung by each and every soul in Darbar Sahib.
Why Ruhani Kirtan?
It frees one from all the deadly sins and lusts of the flesh.
It awakens one from a long-drawn sleep of ages upon ages.
It is acceptable to God, and man has his wishes fulfilled.
It holds priority over all religious practices.
It is the Saving Lifeline for all.
What do we do at Ruhani Kirtan?
We invite all young and old veerji's  to come and god's prais.
Coming sessions
Every 4th Saturday of a month, from 6:40pm to 10pm, at Main Darbar Hall, Level 2
Gallery
Coming Soon! <can link to instagram?>