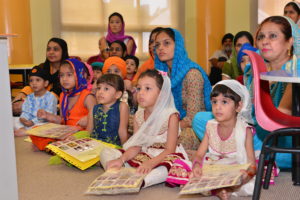 It takes a village to raise a child. Let us give you a hand.
What do we do at Sojhi?
Your time is limited, your hands are full. We know, because we are parents too.
Sojhi aims to inspire children and youth to lead a Guru-centered life. The curriculum is developed in the USA and was first introduced in Singapore in 2012. Classes are available for children from Kindergarten to Secondary 2.
The curriculum covers paath, Sikh history, values and principles of living.
Methods of instruction involves fun and work:
Arts and craft
Hands-on activities
Discussions
Videos
Music
Drama
Presentations to classmates and parents
Games
Outing, etc
Where are classes Held?
Sojhi sessions are conducted at Sikh Centre.
How long are the sessions?
From 2016, all sessions are held every fortnight on Sundays from 10am-12pm. The term are from January-May and July-October.
Any fees?
All courses run by the Sikhi Parchar Academy are free of charge.
For registration and enquiries, kindly contact us at 6327 2005/7.
Coming Sessions
[tribe_events_list category="sojhi" limit="3″]
Photo Gallery
Coming Soon!