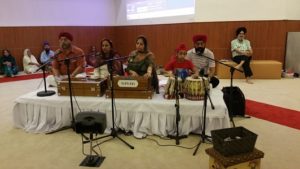 What is Sarab Rog Ka Aukhad Naam (SRKAN)?
The name implies the recitation of God's name cures all diseases. Who is God? And how to approach. HIM is a big question for the man-kind. There are many names and forms of appeasing God in the universe. Sri Guru Granth Sahib Ji is unique as it is ordained to be living God. If anybody wants to get guidance, he must understand the meaning of verses written in it. We have been lucky enough to have received and enjoyed the closeness of God through understanding and applying the meaning to our lives. And the results are amazing. Only God can affect these cures.
What do we do at SRKAN? 
Naam Simran, Shabad Jaap, Rehras Sahib in Kirtan form.
Coming sessions
Every 3rd Saturday of a month, from 5:30pm to 7:30pm, at Main Darbar Hall, Level 2